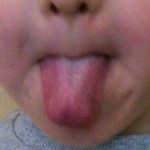 Recently there has been much discussion surrounding Ankyloglossia (tongue tie) and the feeding problems it can cause; people are recognising how difficult it can be finding someone who can help identify if there is a potential problem.  Often we hear parents have been told there is no tongue tie if there is no obvious frenulum on the end of the tongue; but as this article discusses – just like  identifying tongue tie has become a lost art, so has realising its impact on infant feeding.  The tongue can to the untrained eye appear typical.
However to the trained eye, even if baby can protrude their tongue – we can identify the subtle signs they do not have full mobility.  We've also noted (like others with a special interest in this field) that when performing certain movements, the tongue does not respond as we expect.  Whilst this can be in different ways depending upon the tie – when combined with details of how baby is presenting, can mean the difference between mums getting help and not.
The problems is that we currently only cover Yorkshire, UK  for home visits (although we will be extending to other areas later in the year) but we have recently been literally inundated with calls and emails, from desperate mums all over trying to find help!    This hasn't just been limited even to the UK, but other parts of Europe and US.
Some of the contacts have been really quite heart wrenching – mums struggling and babies suffering, even when on various medications for wind or colic, yet nobody has even looked in baby's mouth (and if they have they've declared it fine when all indications are is isn't!).  In many areas of health we have lists of specialists who can help in various areas, but when it comes to identifying tongue tie there is such a huge gap in many places it's tough!
So – we've been wracking our brains as to how we can best help more parents; private jet to drop in for a visit isn't an option, after putting out heads together (and borrowing those of a few friends working in other areas with mums and babies), combined with looking at what has worked effectively for us recently,  the "International Service – Tongue Tie Talk" is launched!
What Is It?
For mums who are unable to reach us or are outside our catchment area – this service allows for a "virtual session" to discuss your problems (email and telephone depending upon where you are based, internet only for areas calls are not feasible, SKYPE coming soon!).  You will be asked to email four specific  images, along with your completed "Tongue Tie Talk" form and if you have a smartphone/digicam, a short piece of feeding footage.  When this is received we will arrange a convenient time to discuss your situation (if applicable – reply by email if not)  and start working through the information sent.  We will then discuss either by phone or email your history in more detail, give our observations and any relevant help, information and support to suit your feeding situation (this service is open to ALL mums, regardless of whether breast or bottle feeding); plus if UK based different options about how you could proceed with this information, based on location.  Following the call we email back details as discussed and any further relevant information/recommended reading that could help you further.
Whilst we absolutely cannot diagnose tongue tie (or other oral abnormalities), we can discuss whether there are indicators something is causing oral restriction, what these indicators are and whether it may be worth seeking out of area or private help if there is nobody suitable locally.  Sometimes there will be one consultant or IBCLC  in an area who can treat tongue tie within the NHS – but if nobody is skilled enough to recognise it's there, infants dont get referred!
Price – £26
How?
Click above to buy the package.
You will then receive an email with the "Tongue Tie Talk"  form for you to complete.  This also includes full details of images required.  If you have trouble completing the form, or are simply too tired/overwhelmed to concentrate for the form – you are welcome to telephone us and we will discuss your situation, filling the form in for you.
We will then contact you to arrange a convenient time to discuss your case.
Following the call, email confirmation of details will be provided.
Please note – this service is not intended to replace consultation with an oral specialist IBCLC.  Is it intended to help those who want further information and support to help with the decision making process.
FEEDBACK
From Sally T:
| | | | | | |
| --- | --- | --- | --- | --- | --- |
| Please rate overall satisfaction 1-5 (1 being the worst) | | | | | |
5/5
| | |
| --- | --- |
| How satisfied were you with the person who discussed your case with you? | Very satisfied, more than met expectations. |
| Did this service provide the information you hoped to obtain? | Very satisfied, more than met expectations. |
| Did you feel you received value for money? | Very satisfied, more than met expectations. |
| How do you feel about the length of time it took us to respond and discuss your case? | Very satisfied, more than met expectations. |
| | |
| --- | --- |
| Would you recommend this service to others yes/no | YES |
What (if any) further action do you plan to take as a result of this service?
Tongue tie division booked via Milk Matters for 48 hours later.