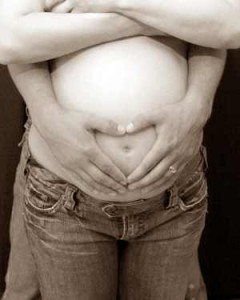 Many parents believe breastfeeding is either something you can do or you can't, it either hurts or it doesn't, you either make enough milk or you don't; this is simply not true.   Antenatal education and knowing how choices around delivery and immediately thereafter can impact on how easily breastfeeding is established, can make a difference.  It can not only help to prevent common problems occurring, but also empowers parents – because breastfeeding is a pretty sound evidence based science, there are ways to tell within the first few days if baby isn't taking enough; unfortunately often nobody tells the parents!
Our antenatal sessions are a chance to ask everything you wanted to know, in a one to one setting, running over one or two meetings.  Depending upon whether you're a first or second (or more!)  time mum (and your existing level of knowledge) includes:
Common myths, old wives tales and lifestyle e.g. the truth about diet, alcohol and caffeine and topics such as dads helping out with the feeding, exclusive or combination feeding, pacifiers, how frequently do newborns feed, pee, poop etc.   What impacts on how easily breastfeeding is established and a copy of our "breastfeeding birth-plan" which you can tailor to suit.  What to expect in the early days/weeks, not just in terms of breastfeeding but also sleep and normal newborn behaviour.  How to avoid painful nipples, tell if baby is getting enough and what is/isn't a concern. 

Second + time mum debrief: The chance to discuss or debrief your previous breastfeeding experiences.  Aimed at mums who perhaps had a difficult start to breastfeeding a previous baby, or struggled so much they decided to stop breastfeeding entirely, or maybe formula fed from the start – depending upon your circumstances this is tailored to suit you.  Our non-judgemental supporters can help to work through what may have impacted last time, answer any questions you have and offer suggestions tailor made to your situation that can help get breastfeeding off to the best possible start this time around.
For further information please contact us.