I first met Charlotte when my little boy was 5 days old. Since leaving hospital 2 days before I had been trying to feed him,  which meant lengthy times on the breast up to 3 or  4 hours, and that seemed the only place he wouldn't cry. I was very distraught, my milk hadn't come in, it was painful and I didn't know what I was doing wrong.
I rang Charlotte who came that day, and spent time with me working through some more comfortable positions, showing us how to identify active colostrum/milk transfer and reassuring my that with the stressful delivery we had experienced may delay milk slightly, but that it was "coming in", which gave me the confidence to carry on.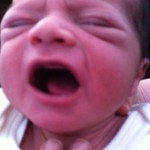 My son had been born by emergency casarean and was very bruised at birth; Charlotte noted his head and tongue deviated from typical and we discussed the potential of a tongue tie.  As his birth trauma could be a factor we arranged to see a local osteopath and have a few days "babymooning".
That afternoon the midwives came and we discovered my son had lost 13% of his birth weight.  As he had been overdue and I had received IV fluids (which can inflate birthweight) and we were confident he was now taking milk; we were adamant with the midwives that we didn't want to give formula.
Luckily he then began to gain weight well (he was re-weighed the next day  and had gained), and after the first osteopathy session we noticed his head and tongue were significantly improved.
Feeding although better was still quite painful at times (other times it seemed fine) and feed duration had reduced significantly but was still often 1-2 hours per feed.  The osteopath felt there was more to be relieved and so after further discussion and thought, we decided to wait, have another session and see how things went.  After the third session we were advised that he had released as much as he could, but elevation (despite being very much improved) was still restricted.  At around the same time his weight plateud and as I had been in touch with Charlotte throughout, aranged for her to come for another visit.
My son was also very windy and unsettled, he would squirm, grunt, cry and wake as soon as he was put down.  He would arch his back, pull up his knees and twist in distress.  Although he stooled very frequently, they were often green, explosive and at times mucousy.
Charlotte confirmed there were still significant indicators of tongue tie and so we decided to go  for a private referral via Milk Matters to get it divided when he was around 4 weeks old.  It was extremely straight forward and quick, and the difference in feeding immediately after was staggering – it didn't hurt!
We immediately had a further osteopathy session as we were advised often further tension can be relieved once the tie has been released – and there was a dramatic improvement again which continued over the next couple of weeks.
He was a totally different baby!  He not only began sleeping better, but was actually laid happy if he woke rather than clamouring for the breast or to suck on a finger. The wind, colic and reflux vanished, stools became consistently rich mustard yellow and he is nw 9 weeks old and flourishing!
It has been a long, difficult and intense process but with the support of Charlotte we gave come out the other side. Breast feeding is something I wanted to do, and Charlotte gave me the support and guidance and strength to carry on when faced with everyone suggesting the easy option of formula!!
Not only has Charlotte supported my breastfeeding requirements, she is always on hand evenings/weekends if I need her and also offers support on other things such as sleeping habits etc.  Something the NHS has never been able to do, it has made me feel let down by the service they provide as there is no support available.
Charlotte is extremely passionate about her work and I cannot thank her enough for the support she has provided us with.
Thanks
Kate